Regular price
$139.99 USD
Regular price
Sale price
$139.99 USD
Unit price
per
Sale
Sold out
 Elevate Your Workspace with More Comfort
Experience Unparalleled Comfort with M7 Standing Desk Converter
Elevate your workspace to new heights with the M7 Standing Desk Converter. Unlike other standing desks that may offer limited space or instability, the M7 is designed with your comfort in mind. Its ergonomic T-frame legs provide ample space under your desk, allowing you to stretch your legs and move freely. Say goodbye to cramped spaces and wobbly structures, and say hello to a workspace that promotes your best performance.
Experience the comfort of this workspace and unlock your full potential. With the M7 Standing Desk Converter, you can create a setup that suits your needs and preferences, ensuring you can work at your best, whether sitting or standing.
Convenient and Room to Grow
Expand Your Workspace Without Replacing Your Desk
The M7 Standing Desk Converter offers you room to grow without the need to replace your entire desk. With its innovative design, it seamlessly grows from your existing desk, allowing you to easily adjust and customize your workspace. Whether you need to adjust your view, accommodate additional equipment, or simply want to fit more of what you need and love onto your desk, the M7 provides the flexibility and convenience you desire.
Keep everything you need within easy reach with the desk riser. From monitors and documents to personal items and stationery, the M7 ensures you have plenty of space to organize and access your essentials while maximizing your productivity.
Easily Adjustable for Your Perfect Fit
Find Your Ideal Ergonomic Position with Ease
The M7 Standing Desk Converter is designed to offer you the perfect fit for your ergonomic needs. Its gas spring mechanism enables smooth and effortless height adjustments with just one hand. Whether your desk is high or low, or you prefer to sit or stand throughout the day, the M7 adapts to your desired level. It provides the flexibility to find your ideal ergonomic position, promoting better posture, increased comfort, and improved productivity.
Sitting, standing, or finding the perfect in-between position, the M7 Stand-Up Desk Converter meets you at your level, supporting your preferred working style throughout the day.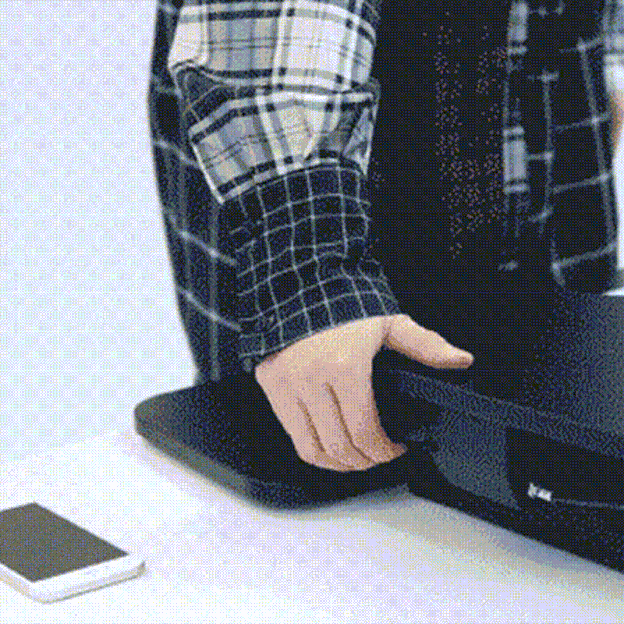 Free Shipping & Returns

All standing desk converters ship within 2 business days and take 3-5 business days to be delivered.

We understand the importance of finding the perfect office furniture. That's why we offer free shipping on all orders and free 30-day returns on all our products. If for any reason you are not completely satisfied with your purchase, you can return it to us within 30 days of delivery for a full refund or exchange.
Warranty

All standing desk converters include a 5-year warranty on the frame and desktop as well as a 3-year warranty on the gas spring system.
Share
View full details
Upgrade Your Workplace with Chairly
Upgrade your workplace with Chairly for a transformative work experience. Discover ergonomic seating, sit-to-stand desks, and acoustic solutions that enhance productivity and create a comfortable environment. From improved posture to increased energy levels, Chairly meets your unique needs. Elevate your workspace with us today.
Free Shipping

Enjoy free shipping on all orders. No minimum purchase required. Shop now and have your items delivered right to your doorstep without any additional cost.


Hassle-Free Returns & Exchanges

Hassle-free exchanges and returns. Easy returns. Customer support available. Satisfaction guaranteed.